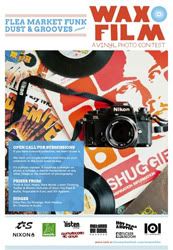 The acclaimed blog '
Dust&Groove
' runned by Eilon Paz, has been asked to be part of the organistion of a photo contest around vinyl ! A great opportunity to show up some pictures. So have a look
HERE
, enjoy, '
like
' and go to your camera then !
Wax On Film: A Vinyl Photo Contest
is an opportunity for vinyl collectors of all walks of life to showcase their true love for vinyl. It's put together by Jamison Harvey of
Flea Market Funk
and Eilon Paz, of the acclaimed vinyl documentary photo site
Dust & Grooves
. More infos here.