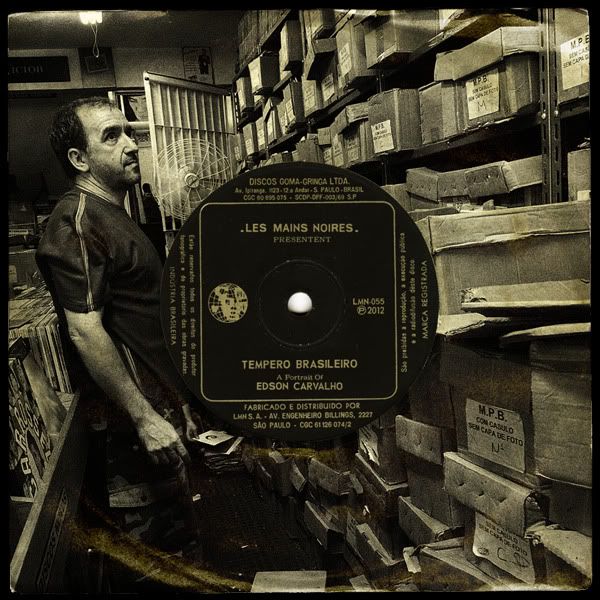 Edson is one of the biggest figure of digging in Sao Paulo,
More than 15 years of vinyl researches made him a huge reference for Brazilian music,
but also for groovy library sounds as his collection would turn pale more than one.
There are people whose kindness doesn't know any border, Edson is one of them.
He's one of the first people I met while my first trip, here, in Sao Paulo. That was in August 2011 and he took care of me like no one can do. Bringing to some of the best place to find records, advising me a very lot about that Brazilian music that I was just discovering and being always present to help me for whatever I could need.
He quickly turned into a very close friend and someone who I wanted to humbly tribute.
Always looking around for new place to dig, one of his favorite spot keep being that basement in downtown Sao Paulo, full of 7 inches.
Really impressive space when you get in for the first time !
The mix that Edson made only features '
Compacto
' (brazilian name for 7inches) coming from this basement ! As well, most of the pictures are from this spot who turned into an amazing playground for photography ! Then, as all portraits, this post came with the usual questionnary, a gallery of photos and a small text from Edson that he insisted to attach with his prolific 27 tracks mixtape.
Much ingredients

which

,

I hope,

will satisfy

your ears

,

eyes

and

curiosity

!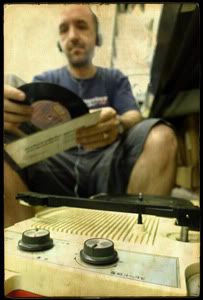 "When my good friend Fred invited me to make a compilation for his excellent blog I felt very honored. Then, I went to check the mixtapes available in the blog and got really scared, because of the high quality of the music. I knew that it would be hard to make a music selection that would keep those high standards.

Anyway, I looked into my singles collection and selected what I consider it's good music. I tried to avoid the beaten path and chose mostly unknown songs, including Samba, Forrô, Baião, Cuco, and what I call AfroSamba, that's Samba with a heavy influence of the African Brazilian religions (Candomblé and Umbanda).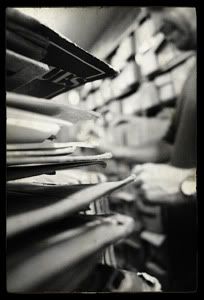 Although most of the songs are danceable, I wasn't looking exclusively for dancefloor fillers. My idea was to select songs that I like and, mainly, are representative of some Brazilian musical genres. Songs that are simple and tasteful.

Fred came to Brazil, tasted our music and food, and got addicted to them. Like him and myself, I hope you all enjoy the tasteful Brazilian music presented in this compilation.
Cheers!"

Edson Carvalho
01° GUARACY DO PANDEIRO - O grito do balaieiro
02° GERALDO DE FREITAS - Xamego de iaia
03° JEOVA - Baiao do garimpeiro
04° DORA LOPES - Estourou no norte
05° TRIO OS GURIATAS - Saudade do meu sertao
06° QUARTETO KOITE - Nordeste
07° BETH MUSSI - Fue fua
08° ANA ROSELY - Banda do Brejo
09° EDSON E ALOISIO - Rio Vermelho
10° BRASIL RITMO 67 - Capoeira
11° VANJA ORICO - Dandara
12° CLAUDIA MORENO - Entre o samba e o aviao
13° DALMO CASTELLO - Fora de hora
14° DE KALAFE - O meu melhor cantar
15° EDITH VEIGA - So vai na onda
16° MARILIA PERA - Rainha de roda
17° MARIA CREUZA - Padé
18° VANJA ORICO - Janaina
19° VERA DE OGUM - O cantico de Nana
20° CARLOS JAIR - Berekete
21° BIGA - Cao Cao Oba
22° KATIA GOMES - Nago
23° DIMAS CAMARGO - Rei Bantu
24° QUARTETO TEOREMA - Sinal vermelho
25° MARILENE - Bahia é nome do pai, do filho, do
espírito
santo
amém
26° ARLETE MARIA - O caxanga
27° ORLANDO GUEDES - Coisas da Bahia
******************************
Name:
Edson Carvalho
Nickname:
MoogMan / Senhor Johnson
Date Of Birth:
10 Sept 1962
Place Of Birth:
Muniz Freire / E.S.
Astrologic Sign:
Virgo
Nationality:
Brazilian
Religious View:
Still searching
Political View:
Disappointed
Family Statute:
Single
Kids:
None
City You Live In:
São Paulo
Activity:
Librarian / Information analyst
Diggin' Since:
1996
Main styles present in your collection:
Brazilian, Soundtracks, Library, Funk, Jazz, Latin, Ethnic.
Little name dropping of musicians you're or you've been listenning the most often:
Jorge Ben, Marcos Valle, Moacir Santos, James Brown, Piero Umiliani, Janko Nilovic, Sharon Jones.
Initiators / Prophets / Persons that brings you into music:
My older brother, MZK, DJ Paulão, and lots of other friends.
The firsts records or artists that strike you the most as far as you remember, while kid:
James Brown's Revolution of the mind, from my brother's collection.
Record that changed your musical approach:
Caetano Velloso - Araçá azul
Three musical UFOs:
Caetano Velloso - Araçá azul
Tribo Massáhi
Free Son - Banguele
According to you, please quote some of your favorites
.Musician:
Moacir Santos, James Brown, Piero Umiliani
.Band:
the Dap Kings, the JB's, Tribo Massáhi
.Lyricist:
Caetano Velloso, Cartola, Serge Gainsbourg
.Singer:
James Brown, Sharon Jones, Doris Monteiro
.Producer:
Arthur Verocai, James Brown, Helcio Milito
.Label:
Desco / Daptones, Polydor, Copacabana
.Instrument:
Bass, Drums, Organ / Synthesizer
.Blog:
Loronix, Les Mains Noires, Mojo Knights
Favorite Format:
Singles (7")
Your Favorite Place to Dig:
Revivendo Discos' basement
Favorite Record Shop:
Disco 7
According to You, the Best City to Dig:
São Paulo
4 Best Records Collected:
Tribo Massáhi
Tenório Jr. - Embalo
Orquestra Afro Brasileira - Obaluayé
Nino Nardini - Jungle Obsession
The Best Piece Ever Find:
Tribo Massáhi
The Best Miss:
Pedro Santos - Krishnanda
The Best Swindle:
Some brazilian singles plus cash for Free Son - Banguele
The First Record you bought:
Led Zeppelin IV
The Last:
Herman Kelly & Life - Dance to the drummer's beat
Some Unfounds Yet:
Moacir Santos - Coisas
Pedro Santos - Krishnanda
Orquestra Afro Brasileira - s/t
BEST TRACK EVER
To Wake Up:
Duddley Moore - The millionaire
To Walk, Drive, Travel:
Stefano Torossi - Being friendly (from 'Feelings')
To Kill The Dancefloor:
Elder William Smith - His voice
To Make Love:
The Gentle People - Emotion heater (Tiki mix)
To Fall Asleep:
Johnny Hodges - Daydream
To Believe:
Nightmares On Wax - 70s 80s
For Your Funerals:
Neno Exporta Som - Deixa a tristeza
Please quote 5 persons that, according to you, changed musical history:
João Gilberto, James Brown, Fela Kuti, Caetano Velloso, John Coltrane
3 Striking personnality of the last century:
Martin Luther King, Muhammad Ali, Lula
3 Words to describe what politics needs nowadays:
Honesty, Principles, Ethic
In few words, what does 'Independant / Underground Culture" means to you:
The type of culture that is not infected by the "gold fever".
Some of your favorites writers:
Machado de Assis, Guimarães Rosa, John Delillo, Fernando Pessoa
Your favorite type of literature:
Fiction, and biographies
Your most loved books:
Guimarães Rosa - Grande sertão: veredas
Machado de Assis - Dom Casmurro
Favorite books about music:
Fred Wesley Jr. - Hit me, Fred
Tropicália - uma revolução cultural brasileira
The music library (library records covers)
Favorite Magazine:
Waxpoetics
Do you like Comics? If yes, please quote some of your favorites:
The Simpsons, Rocco's modern life, I am weasel
Some of your favorite director and why in a word:
Alfred Hitchcock - Genius
David Lynch - Fuckingtastic
John Huston - One of the best ever
Favorite Movies:
John Huston - The Maltese falcon
Theo Angelopoulos - Landscape in the mist
Lasse Hallström - My life as a dog
Favorite OST:
Piero Umiliani - Il corpo / La ragazza fuoristrada
James Brown - Black Caesar
R.D. Burman - Shalimar
Favorite movies melting Cinematic and Musical qualities:
Blade runner, Shaft, Bedazzled
Favorite Philosophical Subject:
Logic and Ethics
Some of your favorite Painter or Graphic Artist:
Hieronymus Bosch, Kandinsky, Miró, Vassarely
Favorite Museum:
Museu de Arte de São Paulo (MASP)
Museu de Arte Contemporrânea (MAC)
The first show you attempted:
I can't remember
The last:
Sharon Jones & The Dap Kings
What was the job you wanted to do while kid:
Veterinarian doctor
One thing that changed your life:
Music
Please quote three other passions that jazz your life:
Friend, reading, travelling
FAVORITE
.Dance:
Funk
.Meal:
Pasta
.Drink:
Scotch
Character:
Homer Simpson
Drug:
Weed
Disguise Suit:
Moustache
Way of Transport:
Metro
Animal:
Dog
What about sport:
Football (not the USA one), Golf
The best visited country:
Brazil
The most unusual place you ever slept in:
In the sand, on a beach
Next country you'd like to visit:
So many to name only one
Best Place to play records:
My house
Best Place to make party:
Friends houses
The thing you hate the most:
Dishonesty
One sentence that could be a 'device':
Smile, breath and go slowly (Oops! I read it as advice)
Three words to describe digging:
Patience, knowledge, curiosity
Three Wishes:
A new job
Finding Moacir Santos' Coisas for cheap
Being a record store owner
Last Kind Words:
Nice to meet you!
******************************
Please find below the whole photo gallery
all photos ©Frédéric Thiphagne / Les Mains Noires
******************************
For more Portraits don't forget to check the "
Reports
" section !